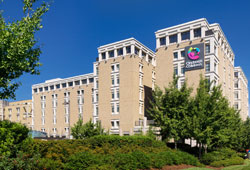 Your Legacy Planning Team at Cincinnati Children's

Suzanne Rohlfs, JD, CAP®
Director, Legacy Planning
suzanne.rohlfs@cchmc.org
513-636-1192
As the Director of Legacy Planning, Suzanne Rohlfs provides strategic planning, leadership and management of the legacy planning program at Cincinnati Children's Hospital Medical Center. She expertly guides donors in making deferred gift commitments in their estate plans and facilitates current gifts made through tax-favored techniques using various assets. Suzanne also partners with attorneys and financial planning professionals to help match their clients' philanthropic interests with giving opportunities at the medical center.
Prior to joining Cincinnati Children's, Suzanne led The Greater Cincinnati Foundation's (GCF) efforts with local attorneys, wealth managers and other advisors to facilitate their understanding of GCF and help their clients make the most of their charitable giving. She worked with advisors and their clients as well as donors and prospective donors to develop and implement charitable giving plans to meet their charitable goals and create a philanthropic legacy. Suzanne previously served as Director of Gift Planning at the University of Dayton before joining GCF.
She began her career by practicing law with a focus on estate planning and probate. Suzanne holds a Bachelor of Science degree from the University of Dayton and a Juris Doctorate from the University of Toledo College of Law. She is licensed to practice law in both New York and Ohio and has attained the Chartered Advisor in Philanthropy (CAP ®) designation from The American College.
She serves as a board member and Vice President for Cincinnati Estate Planning Council.

Kelli M. Kurtz, CAP®
Senior Officer, Legacy Planning
kelli.kurtz@cchmc.org
513-636-5685
Kelli Kurtz is the Senior Legacy Planning Officer at Cincinnati Children's. She comes to the medical center with more than 20 years' experience helping donors and their advisors create lasting legacies. Prior to joining Cincinnati Children's, Kelli held leadership roles in education and foundations.
As Executive Director of Institutional Advancement at Stephen T. Badin High School, Kelli helped propel the school to new heights as it became one of the fastest growing high schools in the Archdiocese of Cincinnati, while meeting many historic milestones through annual, major and planned gifts. In her role as Vice President of Development at the Hamilton Community Foundation, Kelli managed relationships with fund holders, advisors and non-profits. She led the effort to establish an endowment program, helping local non-profits build endowed funds. In partnership with professional advisors, Kelli created timely seminars for their continuing education in philanthropy, and crafted strategic gift plans for their clients, as well as foundation donors and prospective donors.
Kelli holds a Bachelor of Arts degree from Miami University, a Master of Science degree in Education from the University of Dayton, and has attained the Chartered Advisor in Philanthropy (CAP®) designation from the American College. She serves on the Greater Cincinnati Planned Giving Council and the Cincinnati Estate Planning Council, and is a member of the Hamilton Rotary Club in Butler County, Ohio.
Thank you for reaching out to Cincinnati Children's Hospital Medical Center. We are delighted that you are interested in further information. We will make every effort to respond to you in a timely manner.