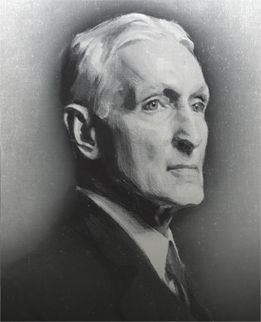 William Cooper Procter
Procter's extraordinary leadership and philanthopy resided in dramamtic expansion in the hospital's size, scope, mission and reputation.
In the 1920s, a local businessman had the vision and forethought to make an investment that has impacted generations of families and children in our community, across the country and around the globe.
William Cooper Procter, grandson of the co-founder of Procter & Gamble, gave a transformational gift of more than $5 million-valued at nearly $80 million today-to advance the growth and innovation of Cincinnati Children's.
Half of Procter's support was dedicated to capital projects of the time, like constructing and furnishing a new 200-bed facility and a residence hall for nurses.
The other half of Procter's investment changed the trajectory of the medical center-and of child health. His generous gift established and endowed our Research Foundation and catapulted Cincinnati Children's to one of the world's most preeminent pediatric hospitals in the world, and the only hospital with a dedicated research facility.
Because of Procter's vision and support, researchers and clinicians at Cincinnati Children's have made breakthrough discoveries that have changed the face of pediatric medicine. Polio has been virtually eradicated because of Dr. Albert Sabin's first oral polio vaccine; we developed the first functional heart-lung machine doubling the survival rate for heart surgeries; we've revolutionized the care, and continue to save the lives, of countless premature babies, thanks to the cloning of human surfactant; and the discovery of the rotavirus vaccine which is now saving hundreds of thousands of lives in more than 100 countries.
Through his thoughtful planning and generous support, Procter's legacy lives on today as Cincinnati Children's continues to solidify our reputation for best-in-class patient care, professional education and research.
We invite you to write your own chapter of Cincinnati Children's future by joining the William Cooper Procter Legacy Society, a special group of donors who plan to invest in the medical center through legacy gifts-wills, trusts, charitable trusts, gift of real property by deed, life insurance and retirement assets via beneficiary designation.
Legacy gifts are as vital for the next century of innovation as William Cooper Procter's was for the last. As a nonprofit hospital and research center, we rely on this support so we can continue to conduct bold and innovative research and provide world-class medical care to every child counting on us.
As a member of the society, you will:
Receive a subscription to our special donor magazine, For the Children and other important publications
Have your name added to our digital donor wall located on the main concourse of the medical center
Be invited to attend exclusive events including our annual Dinner with Champions and our Pediatric Pioneers event-with behind-the-scenes highlights of our most recent innovative research developments
Receive a personalized report highlighting the advances to the division or program that will benefit from your gift
And more
For more information or to enroll in the William Cooper Procter Legacy Society, visit our website or contact:
Suzanne Rohlfs, JD, CAP®
Director, Gift Planning
Cincinnati Children's Hospital Medical Center
3333 Burnet Avenue, MLC 9002
Cincinnati, OH 45229-3039
Telephone: 513-636-1192
Email: suzanne.rohlfs@cchmc.org